Great offer for 34 million SBI Yono users, up to 50% discount on shopping


Good news for users of SBI's banking and lifestyle platform Yono
3.45 crore users will get up to 50% discount on shopping
Discounts will be available in several categories, including online shopping on Amazon

There is good news for users of State Bank of India's banking and lifestyle platform Yono. Yono users will have the opportunity to shop with a bumper discount. SBI has announced Yono Super Saving Days, in which Yono users will get a hefty discount of up to 50 per cent on shopping from February 4 to 7. In which users will get discounts in many categories including electronics, furniture, travel, hospitality, online shopping on Amazon.
Yono partnered with more than 100 merchants for the carnival


No return to law, no chance to return home: Tikait says with new slogan: Give PM Modi's phone number
China has made 1000 nuclear bombs, this work is also teaching America a lesson
Petrol price in Ram's India is Rs 93, Sita's in Nepal is Rs 53 and Ravana's in Lanka is Rs 51- BJP leader
સંપૂર્ણ ન્યુજ વાંચો ગુજરાતીમા
More than 3.45 crore users of Yono can avail this offer. Yono has partnered with more than 100 merchants for it, including Amazon, Oyo, Samsung and Travel. Up to 50 per cent discount is available on hotel bookings with Oyoni at Yono Super Saving Days. On the other hand, with Yatra.com, you will get 10 per cent discount on flight bookings. In addition, Samsung will offer a 15 per cent discount on mobiles and tablets. Paperfry, on the other hand, offers an additional discount of up to 7 per cent on furniture purchases. Plus, you'll get up to 20 percent cashback on select category purchases with Amazon.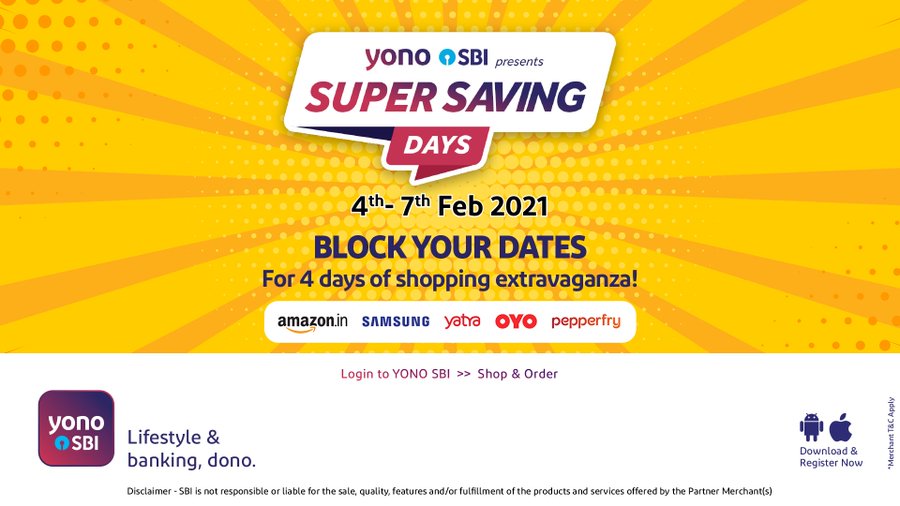 CLICK HERE TO READ IN GUJARATI
CS Shetty, MD (Retail & Digital Banking), SBI, says that customers will get better offers and discounts on purchases under Yono Super Savings Days. This shopping carnival is designed for Yono users only. Notably, Yono has been downloaded 74 million times in just 3 years. On the other hand, there are more than 3.45 crore registered users.